£1.4million investment will transform vacant industrial site into homes
A total of 84 homes are to be built off Mill Lane in Oldbury after the West Midlands Combined Authority (WMCA) agreed to invest £1.4m towards the cost of cleaning up the former industrial site and making it ready for high quality housing.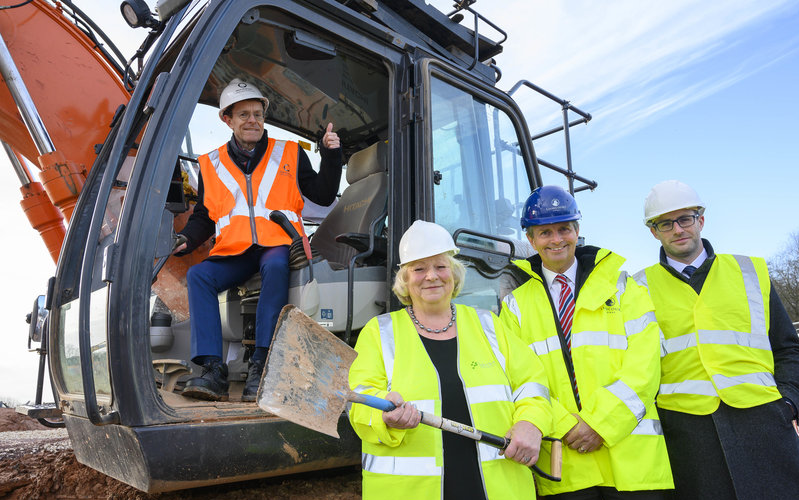 The ambitious funding deal means developer Lioncourt can now press ahead with the regeneration of the 5.6 acre brownfield site which has stood empty and neglected since its last remaining industrial buildings were demolished in the 1990s.
The development will see Lioncourt build 16 semi-detached houses for sale on a shared ownership basis thanks to a clause in all WMCA funding grants which requires at least 20% of the new homes to be classed affordable for local people. 
Lioncourt has meanwhile agreed a construction employment and skills plan with Sandwell Council that will create five new jobs and three paid apprenticeships for local people. Three of the new jobs will be for long-term unemployed or vulnerable people, one for a graduate and another will be in a managerial support role.
Visiting the site, Mayor of the West Midlands Andy Street said the development was a first class example of how the WMCA was using its funding and expertise in partnership with developers, local councils and others to breathe new life into derelict, industrial land.
The Mayor said: "One of the biggest challenges we face in the West Midlands is the need to build 215,000 new homes by 2031, and to make sure a good proportion of these homes are affordable for local people. At the same time we also have a vast amount of industrial land crying out for redevelopment which has sat derelict for decades. 
"This latest development in Oldbury is a great example of how, by using derelict brownfield land, we can both relieve pressure on the Green Belt and help protect our environment for future generations, while also providing people with quality, affordable homes that will help to meet our 2031 housing target."
Cllr Yvonne Davies, leader of Sandwell Council, added: "The site has been a vacant eyesore for a number of years and we have worked tirelessly with numerous landowners over that time to secure residential development.
"We were delighted when the site was purchased by Lioncourt Homes and our planners worked closely with them on the proposals to create a quality residential scheme that will provide much needed homes in a sustainable waterfront location.
"We are also proud that this is another example of Sandwell securing wider benefits for our communities, securing jobs and apprenticeships as a result of regeneration investment."
The Mill Lane site is considered a key location being close to major transport routes and just 400 yards from Langley Green Rail Station.
The 68 homes for sale include a range of house types including apartments and larger townhouses. The 16 shared ownership properties will be two and three bed semi-detached homes. 
Access to the funding was provided by Frontier Development Capital Ltd, who work closely with the WMCA to invest in property developments that support economic growth in the West Midlands.
Ed Bradburn, investment director for Frontier Development Capital's property team, said: "We're delighted to support Lioncourt Homes in progressing this scheme via investment from the WMCA.
"The Mill Lane site has been void since the 1990's, so it's fantastic to see a developer regenerating vacant brownfield land in order to bring forward much needed quality housing for local families.
"The WMCA has a range of property funds available, and this is the latest in a series of investments designed to accelerate both residential and commercial developments across the region."
Find out more about Property Finance