£24m National Tooling Loan Fund supports component manufacturers as sector gains momentum
As the country's businesses start to ease out of lockdown, the manufacturing sector can benefit from alternative funding that supports supply chains and workforces.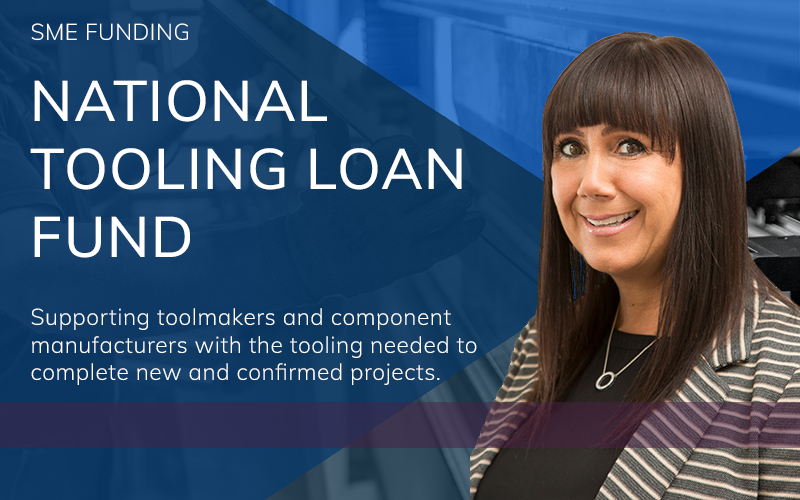 Industries' confidence took a knock during the first two quarters of 2020, however as initial uncertainty turns to future planning, many firms are looking for ways to get back to "business as usual" and invest in their long-term future.
The National Tooling Loan Fund was set up to support component manufacturers and toolmakers to design, develop and manufacture tooling. With investment up to £2 million, funding is available to manufacturing businesses across England for their new and confirmed projects. More information can be found here.
Marie Kelly, Investment Manager for the National Tooling Loan Fund, describes how the fund can support the manufacturing sector to secure jobs, complete orders and get the gears turning once more – 
How does the fund work and describe whether a manufacturing SME should consider it:
When fulfilling orders from OEMs or Tier 1 suppliers, component manufacturers and toolmakers do not typically receive payment until after component production has started. Paying for tooling to fulfil an order creates a funding gap and can prove very challenging to an SME's short-term cashflow. 
The National Tooling Loan Fund works by bridging this gap. SMEs find the flexibility offered by the National Tooling Loan Fund can unlock barriers to becoming part of a supply chain. 
It is suitable for any sized SME looking to complete a firm order that has a 2-year proven track record of trading and a confirmed order. The Fund supports short to mid-term projects for up to 18 months and has supported over 50 projects since launch in June 2014.
In short, how does it operate, how long does it take to arrange and how long does it run for:
The application process starts with FDC having an initial conversation with an SME, following on with completion of an "Expression of Interest", to learn more about the business and understand the project they are looking to fund. 
The next step is to complete an application form, which is submitted to FDC along with supporting financial documents. From there, FDC draws up an investment paper to take to the Independent Investment Board for approval. 
From the initial funding enquiry to the point an SME can draw funds, it takes typically 6 – 8 weeks as the Board meets monthly, however with any finance application timelines can differ from business to business. 
A loan is usually approved for a period of 6 – 18 months and is repaid in full once the SME receives payment from their OEM.
What sort of business/deal/project is it suitable for:
The National Tooling Loan Fund is available to any sized SME, supporting toolmakers and manufacturers requiring investment between £50,000 and £2,000,000. 
As long as there is a confirmed order in place the Fund will consider applications for businesses operating in any sector, not just the automotive industry. 
What sort of business/deal/project it is NOT suitable for:
Funding is available for specific projects with confirmed orders and is not a generic source of finance. For example, an SME needing tooling for speculative orders cannot access this Funding. 
The pros:
This type of alternative finance is incredibly flexible and straightforward to understand. With decades of manufacturing sector knowledge, the team at FDC understands that no two businesses are alike, therefore we structure the deal to support the ambitions of innovative and growing manufacturers. Funding from The National Tooling Loan Fund can bridge the working capital gap between an OEM placing an order and making payments months or years later.
As with any loan finance there are terms, conditions, and fees to consider before committing to a borrowing agreement. One of the conditions of this fund is that the projects it invests in must safeguard and/or create jobs. Businesses seeking to apply must manufacture the subsequent component parts in England, although the tooling itself can be produced overseas providing that it is finished off in England.
How much does this funding cost:
The cost of finance is fixed for the term of the loan at 7.5% above the prevailing base rate. There is also a 2% arrangement fee that needs to be paid upfront before investment can be made, however there is no exit fee or penalty if a manufacturer repays the loan early. 
Security is taken by way of a debenture over the fixed and floating assets of the business, but this is postponed in favour of existing Finance Providers so as not to impact on existing financing arrangements. The arrangement fee includes FDC security costs and there is no ongoing monitoring fee. 
Find out more about Tooling Loan